Spring is one of my favorite times of the year, not so much for the chilly mornings, but for all the beautiful flowers, bees, and butterflies. This is the first spring I'm spending in my new apartment and I've spotted several hummingbirds outside my window, a real treat for a city dweller.
Spring also influences my reading life. I tend to pick up more books about plants and the outdoors. In the past, I've managed to get so enthralled that I've convinced myself my true calling is to be a horticulturist. Perhaps I'm destined for a late life career change!
This spring, my reading is all about the bees. While I can't have a hive of my own or plant a garden full of flowers, I still have an affinity for them. Back in college, I even took a class on beekeeping! And there was that summer I spent working on a peach farm. We had lots of hives to pollinate the blossoms and I would hang out with the bees and pet them while they stopped to gather a drink of water.
Many people are afraid of them, understandably for their stings do hurt but honey bees are quite docile and cute! Not to mention they make delicious honey. Perhaps that's why they get all of the attention, but honey bees are not the only bees out this spring collecting pollen and nectar. There are lots of native bees that do the work honey bees can't.
I've curated a list of my favorite books on bees including a few I hope to read this spring, preferably while sitting in the sun and sipping honey sweetened iced tea. Let me know if I missed a good one and be sure to share your favorite spring reads in the comments below!
All About Bees: A Reading List for Spring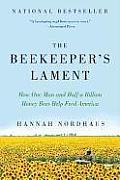 "The honey bee is a willing conscript, a working wonder, an unseen and crucial link in America's agricultural industry. But never before has its survival been so unclear — and the future of our food supply so acutely challenged. Enter beekeeper John Miller, who trucks his hives around the country, bringing millions of bees to farmers otherwise bereft of natural pollinators. Even as the mysterious and deadly epidemic known as Colony Collapse Disorder devastates bee populations across the globe, Miller forges ahead with the determination and wry humor of a true homespun hero. The Beekeeper's Lament tells his story and that of his bees, making for a complex, moving, and unforgettable portrait of man in the new natural world."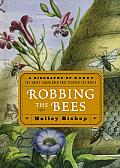 "Honey has been waiting almost ten million years for a good biography. Bees have been making this prized food — for centuries the world's only sweetener — for millennia, but we humans started recording our fascination with it only in the past few thousand years. Part history, part love letter, Robbing the Bees is a celebration of bees and their magical produce, revealing the varied roles of bees and honey in nature, world civilization, business, and gastronomy. To help navigate the worlds and cultures of honey, Bishop — beekeeper, writer, and honey aficionado — apprentices herself to Donald Smiley, a professional beekeeper who harvests tupelo honey in the Florida panhandle. She intersperses the lively lore and science of honey with lyrical reflections on her own and Smiley's beekeeping experiences. Its passionate research, rich detail, and fascinating anecdote and illustrations make Holley Bishop's Robbing the Bees a sumptuous look at the oldest, most delectable food in the world."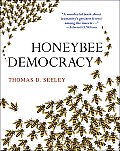 "Honeybees make decisions collectively — and democratically. Every year, faced with the life-or-death problem of choosing and traveling to a new home, honeybees stake everything on a process that includes collective fact-finding, vigorous debate, and consensus building. In fact, as world-renowned animal behaviorist Thomas Seeley reveals, these incredible insects have much to teach us when it comes to collective wisdom and effective decision making. A remarkable and richly illustrated account of scientific discovery, Honeybee Democracy brings together, for the first time, decades of Seeley's pioneering research to tell the amazing story of house hunting and democratic debate among the honeybees."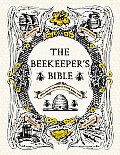 "The Beekeeper's Bible is as much an ultimate guide to the practical essentials of beekeeping as it is a beautiful almanac to be read from cover to cover. Part history book, part handbook, and part cookbook, this illustrated tome covers every facet of the ancient hobby of beekeeping, from how to manage hives safely to harvesting one's own honey, and ideas for how to use honey and beeswax. Detailed instructions for making candles, furniture polish, beauty products, and nearly 100 honey-themed recipes are included. Fully illustrated with how-to photography and unique etchings, any backyard enthusiast or gardener can confidently dive into beekeeping with this book in hand (or daydream about harvesting their own honey while relaxing in the comfort of an armchair)."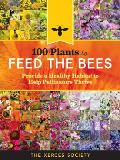 "The international bee crisis is threatening our global food supply, but this user-friendly field guide shows what you can do to help protect our pollinators. The Xerces Society for Invertebrate Conservation offers browsable profiles of 100 common flowers, herbs, shrubs, and trees that attract bees, butterflies, moths, and hummingbirds. The recommendations are simple: sow seeds for some plants — such as basil, rhododendron, and blueberries — and simply don't mow down abundant native species, including aster, goldenrod, and milkweed. 100 Plants to Feed the Bees will empower homeowners, landscapers, apartment dwellers — anyone with a scrap of yard or a window box — to protect our pollinators."
+ Two Freebies
"Most people do not realize that there were no honey bees in America before European settlers brought hives from Europe. Native pollinators, especially bees other than honey bees, have been pollinating the continent's flowering plants since long before the arrival of honey bees. Even in today's vastly altered landscapes, they continue to do the yeomen's share of pollination, especially when it comes to native plants. The honey bee, remarkable as it is, does not know how to pollinate tomato or eggplant flowers. It does very poorly compared to native bees when pollinating many native plants, such as pumpkins, cherries, blueberries, and cranberries. Let us take a closer look at this forgotten treasure of native bees."
"Many of us enjoy the beauty of flowers in our backyard and community gardens. Growing native plants adds beauty and important habitats for wildlife, especially for pollinators. Even a small backyard garden can make a big difference. Gardening connects us to nature and helps us better understand how nature works. This guide will help you create a pollinator-friendly garden."